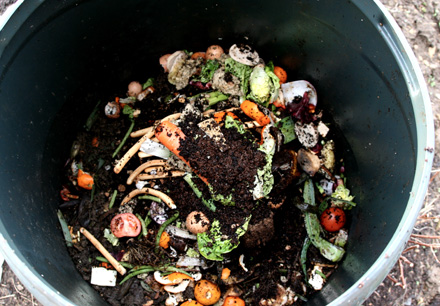 Vegan and vegetarian gardeners take heed!
If you are as interested in vegetable and flower gardening as much as this Healthy Home blogger is, you may be looking for fertilizers that are as animal friendly as possible.  That is why we were so glad to learn about an article in today's Huffington Post that lists alternatives to traditional fertilizers that oftentimes are derived by animals and their byproducts.
1) Compost is a great plant food that can be made at home from food scraps or purchased at the store.  When buying premade, make sure to look for boxes marked "vegan."
2) Seaweed is an excellent form of fertilizer and a source of trace minerals, according to the article.  Often called kelp, seaweed is sold as liquid or meal and can be purchased at your local nursery.
3) Liquid herbal infusions can be made from weeds such as nettle, dandelion, oat straw, horse tail, and comfrey.  A "brew" can be made by chopping them up and allowing them to steep like tea leaves in a bucket of water in the sun. Once the mixture is strong, it can be used to supplement fruit trees or vegetables.
4) Mulching with straw either in winter or while preparing a spring garden for planting is helpful as the straw ultimately "feeds" the dirt in the breakdown process.  Mulching also encourages worms to live underneath the soil and happy soil is often ones filled with the wriggly critters.
5) "Green" manure or nitrogen-fixing crops actually allows plants to become the fertilizer.  The nitrogen-gathering plants are allowed to grow for a short while before being added to the ground.  This process is particular good for growing peas and broadbeans.
Happy gardening and fourth of July!